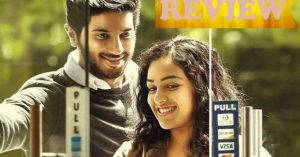 100 Days Of Love is a romantic drama written and directed by debutante Jenuse Mohamed. The movie stars Dulquer Salmaan and Nithya Menen in the lead roles. 100 Days Of Love is produced by Vijayakumar Palakkunnu, under the banner Aishwarya Sneha Movies.
The setting is urbane and the visuals are delicious. You wait for something grand to be served, but what follows is a hollow love story that is never engaging.
The lovebirds are called B K N or Balan K Nair (Dulquer Salmaan), who is a journalist, and Sheela (Nithya Menen), a student. The characters have been named after the legendary villain and the beautiful heroine from the past is indeed funny, but is that all you look forward to in a movie?
They meet one night when they get into the same taxi, just by chance. One smile and the boy is head over heels in love with the girl, though his clues about her is limited to a couple of photographs in the camera that he gets in the process.
The hero is frantically searching for the girl, with the help of his friend, Ummer (Sekhar Menon). They manage to find her, but by the time the two meets, your interest in the proceedings will be over.
Even if you are ready to buy this mushy romantic tale, this one is heavily influenced by some of those lowbrow Hollywood rom-coms, tailor made for the western sensibilities.
In the end, the film never makes any impact whatsoever, apart from the good looks of the lead pair. It's a hotchpotch of usual sequences that we have seen in most love stories and it is as energizing as having a hot cup of coffee, sans sugar. It's fine if your doctor wanted you to, but never otherwise.
Jenuse Mohamed's script brings out a usual love story in a different way. The movie which travels through the cliched situations and dialogues looks artificial at places.The director has managed to conceal the little flaws to an extent with the brilliant visualisation. In short, 100 Days Of Love is a perfect launch pad for Jenuse.
Dulquer Salmaan perfectly plays Balan K Nair and lives the role with his expressive eyes and soulful voice. Nithya Menen, who plays Sheela, fits into her role of a Bangalore based Malayali girl and shares a great chemistry with Dulquer Salmaan. Shekhar Menon shines in his role with an energetic performance.
A very fresh version of so-called cliched love stories.