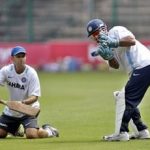 Johannesburg: Indians have traditionally struggled to adapt to hard, bouncy wickets of South Africa and coach Gary Kirsten wants his top batsmen at least 3,000 hits at the nets to be battle-ready before the Test series starting at Centurion on December 16.
"There are two vital aspects to winning in South Africa — first, the guys have to play with huge amounts of courage and determination. Second, they have to understand how to set up their game as bowlers and batsmen in these conditions. It`s as simple as that," Kirsten said.
"To achieve that requires a lot of repetition in the nets and to be comfortable. I want each of the batsmen to have hit 2000-3000 balls by the time the first Test starts," said the former South African opening batsman.
Kirsten, who has brought the Indian players at his Claremont Cricket Club Academy in Cape Town for pre-series preparations, said the outcome of the high-profile series, touted as the unofficial Test Championships, will finally boil down to which team copes pressure better.
"We have the ability in our batting to put bowlers under pressure in any conditions. To win a Test you need to capture 20 wickets and I don`t believe the conditions will determine whether we can take 20 wickets or not. Pressure will be the determining factor. We need to execute properly otherwise we`ll be the ones under pressure. We`ll be up for it from ball one," he was quoted as saying by `The Times`.
Kirsten said the three-match Test series between the world`s number one and two Test sides starting at Centurion on December 16 could be decided by a few key moments in one or two sessions.
"Test cricket is all about momentum and playing well for periods of time in a match that can turn a whole series around. Both sides have strong batting line-ups. If they both bat well, it will come down to one or two sessions to decide the series. The key for us is to get some players into good form early on in the series," he said.
In the four series in South Africa since 1992, India have lost each time and out of 12 previous Tests played here, the Proteas have won six matches and India one — at in their last tour in 2007 — with five draws.
Kirsten, under whom India had lost only two of their last 25 Tests, said the players are aware of lack of success on South African soil.
"This is a country where India haven`t had much success, so winning here would be a big deal. The players are fully aware of that stat. But we are not focusing on the final outcome," Kirsten said.
"We are working towards making sure we do the right things on a daily basis. If that stacks up all right then come January 6 we`ll be in with a shout."