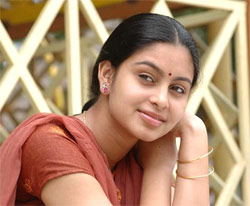 Abinaya lands dream role!
Bright and sparkling she lent her best to her role as the hero's sister in 'Naadodigal'. Kudos to director Samuthirakani for directing Abinaya. While watching 'Naadodigal' none of us knew that one of the starcast was a handicapped. Abinaya proved that she was as good as any other actor with a promise to carry off any role with ease. But shockingly the actress did not receive any roles to do post 'Naadodigal.'
Then came 'Easan' with the same Samuthirakani-Sasi Kumar duo which gave a seat to Abinaya in their project. In this film Abinaya played the role of a girl who could neither speak nor hear. Again despite receiving good comments for her performance in 'Easan' there were no offers coming her way.
Then fate interviened!
A popular school in Chennai recently had two celebrity guests to host an event. The guests were 'Ghajini' fame A.R. Murugadoss and our own Abinaya. When Murugadoss asked Abinaya on which project she was working currently, Abinaya conveyed to him that she did not have any offers. Now Murugadoss was also in the look out for a second heroine for his upcoming project '7am Arivu' which has Suriya and Shruthi Haasan in the lead.
The director is reported to have asked Abinaya if she was interested to play second heroine in his upcoming project '7 am Arivu' and a Abinaya immediately nooded her yes after the director narrated her role in the film. Wow, now you call that coincidence!
The character of Abinaya in '7am Arivu' is strictly under wraps. Now, call it fate or destiny Abinaya has reportedly landed herself a role opposite Punit Rajkumar in a Kannada film!
Come back for latest updates right here on IndiaGlitz.com. Also post your comments on seeing Abinaya as second heroine in a Murugadoss flick!