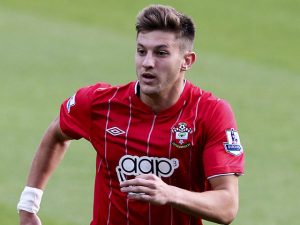 Liverpool suffered a major blow on Friday when England midfielder Adam Lallana was ruled out for up to six weeks after suffering a knee injury.
The 26-year-old Adam Lallana, who moved to Anfield from Southampton for £25 million ($42 million) earlier this month, sustained the knock to his lateral collateral ligament during a session at the Reds` Harvard University training base in Boston.
The 26-year-old, a member of England`s World Cup squad in Brazil, has been assessed by Liverpool`s medical staff and does not require surgery, but he looks unlikely to recover in time for the start of the Premier League season on August 16.
"No specific timeframe has been placed on a return to fitness, but injuries of this nature can result in a spell of anywhere up to six weeks on the sidelines," a statement on Liverpool`s website confirmed.
Lallana will undergo further assessment by Liverpool`s medical team in the United States and on his return to England.
His absence from the start of Liverpool`s season is a significant setback for Reds manager Brendan Rodgers, who had hoped to use the playmaker as a key figure in his revamp of the team following the sale of star striker Luis Suarez to Barcelona.
Lallana was taking part in only his fourth training session with Liverpool after he and the majority of the club`s other England World Cup players joined up with the Reds squad on their US tour on Monday.
The midfielder, whose outstanding form last season made him a target for several top clubs before Rodgers won the race for his signature, will be denied an opening day reunion with his former club Southampton.
Liverpool, who finished as Premier League runners-up last term, also face crucial matches against Manchester City and Tottenham in the early weeks of the season.
Lallana`s focus will be on reaching peak fitness in time for the start of Liverpool`s Champions League challenge in September.