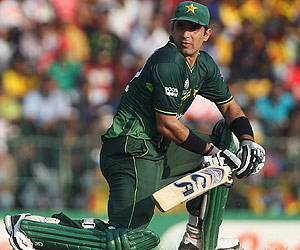 COLOMBO: Pakistan team manager Intikhab Alam warned Canada on Tuesday that his side is determined to finish top of Group A at the World Cup and will not be easing up when the two sides meet in Colombo.
Having thrashed Kenya by 205 runs in their opening match, before spoiling the party for 35,000 home fans with an 11-run win over co-host Sri Lanka, Alam told The Associated Press that his side now has top slot in its sights.
"That's the target now," Alam told AP as he prepared the squad for Thursday's game. "We want to be on top in our group and we will play against Canada as any other big match."
"We want this momentum to continue and will not be relaxed against teams like Canada."
Alam's side is also wary that any let-up in the pressure it's been exerting so far on opponents could lead to a nasty upset at the World Cup.
Pakistan has already been on the receiving end of just such a setback in the competition, having famously lost to ICC Associate nation Ireland in the group stage of the 2007 edition in the Caribbean.
"Everyone knows whenever big teams had taken these associate countries lightly they have sprung a few surprises," Alam said.
However, Pakistan's batsmen and bowlers have so far delivered the goods with experienced Misbah-ul-Haq and Younis Khan scoring back to back half-centuries in both games.
Shahid Afridi is the leading wicket-taker in the tournament with nine scalps off his faster legspinners. The Pakistan captain baffled the Kenyans with 5-16 — his country's best ever bowling figures in the World Cup. He then ripped the heart out of Sri Lanka with a haul of 4-34 besides taking a brilliant low catch.
However, Afridi was equally cautious of the North American rivals against whom Pakistan has played only once in the World Cup — recording an eight-wicket victory in 1979.
"We have tried to gather some video footages of their initial matches, but we will not be relaxed against them," Afridi said. "We should not be negative about anything and must prove that we are a side which can achieve consistent results."
Below-par fielding against Sri Lanka is one area to have given Afridi a headache after Pakistan missed several run out chances and dropped three catches, while wicketkeeper Kamran Akmal twice missed out on stumping chances with captain Kumar Sangakkara.
"We must improve or else such fielding will not help our cause," Afridi said at the time.
Pakistan has two injury worries with leftarm spinner Abdur Rehman spraining a muscle in his right leg during the match on Saturday and Misbah pulling a hamstring during his unbeaten knock of 83.
Rehman had been advised at least rest of seven days to recover in time before the game against New Zealand on Mar. 8.
Misbah did not take the field when Pakistan successfully defended the total of 277-7 but has recovered and was back in training on Tuesday and even batted in the nets.
In the absence of Rehman, offspinner Saeed Ajmal is expected to get his first game in the tournament on Thursday.
Canada's players have made a horrific start to its World Cup — which could be their last after the ICC's decision to reduce the participating teams to 10 from 14 for the 2015 tournament in Australia and New Zealand.
Sri Lanka hammered them by 210 runs and even Zimbabwe recorded a massive 175-run win at Nagpur on Monday.
Veteran John Davison is the oldest player in the tournament at 40, but the right-hander has yet to get off the mark in the tournament after being dismissed for nought in both matches.
"Maybe (its) lack of belief at the top order," captain Ashish Bagai said after his side's latest defeat. "That's something for us to get out very, very quickly otherwise we will be in trouble in the next four games."
Canada has reshuffled its batting order in both games, but both times batsmen had failed. Nitish Kumar on Monday became the youngest ever player to appear in the World Cup at the age of 16 years, 283 days, but could score only 1.
"We need to comeback somehow, it's us as a batting unit that's failing and that's the most disappointing part," Bagai said. "It's our own mistakes which are going on again and again."