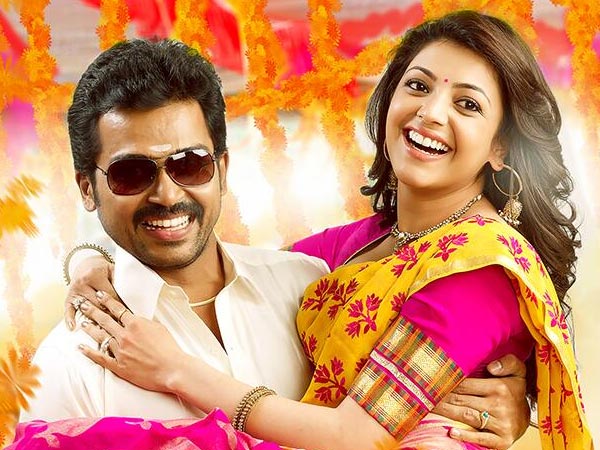 Movie : All In All Azhagu Raja
Production: KE Gnanavel Raja, Studio Green
Cast: Kajal Aggarwal, Karthi, Santhanam
Direction: M Rajesh
Screenplay: M Rajesh
Story: M Rajesh
Background score: S Thaman
Cinematography: Sakthi Saravanan
Director M Rajesh of Boss Engira Bhaskaran fame is back with yet another romantic comedy, All in All Azhagu Raja, featuring Karthi, Kajal Aggarwal and Santhanam in the lead roles.
Prabhu, Saranya Ponvannam, Radhika Apte, Naren, M S Bhakar, Kota Srinivasa Rao and Nassar are also in the cast.
The film is produced by K E Gnanavel Raja's Studio Green and has music by S Thaman.
Azhagu Raja is set in a small town and revolves around Karthi, who plays the titular role, and Kalyanam (Santhanam), his assistant.
Raja is the managing director of a local TV channel and Kalyanam is his only staff. His parents, Prabhu and Saranya Ponvannam are eager to get him married, but Raja is determined to make his TV channel a success before tying the knot.
Raja realises that getting hold of a few advertisements is the only way to salvage their floundering TV channel.
The proprietor of a newly opened jewelry store, played by Kota Srinivasa Rao promises them an ad, but only if they can get a gorgeous model.
Having no options, Raja decides to disguise Kalyanam as a girl to shoot the ad. Thus is born a new and utterly ridiculous avatar for Santhanam as Kareena Chopra, a Mumbai based model.
Meanwhile, Raja very predictably meets and falls in love with Chitra Devi Priya (Kajal Aggarwal) and conveniently forgets all his dreams for his TV channel.
Devi Priya is the pampered and spoiled daughter of a rich theatre-cum-wedding hall owner, who believes that she is the next Queen of Melody.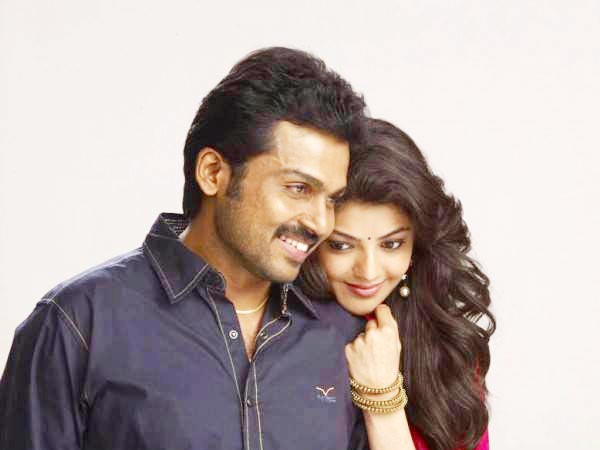 We also have a flashback scene set in the 1980s, where we learn about Prabhu's previous history with Devi Priya's family. Karthi plays the role of the young Prabhu and we have yet another character for Santhanam, this time as Prabhu's sidekick.
There seems to be an overdose of characters, two roles for Karthi and three for Santhanam. There is too much happening in the film. But nothing to keep you interested. Santhanam's presence is inevitable in all Rajesh's movies with not much change in his role or characterisation. Though he does have his moments in All in All Azhagu Raja, the comedy seems to be forced, many of the scenes greatly exaggerated, and his portrayal of Kareena Chopra, a disaster.
Kajal Aggarwal has given a decent performance, but her character seems totally over the top and needs a good dose of reality.
Prabhu, Saranya, Naren and Nassar have little to do in the film.
M S Bhakar, however, does deserve a special mention. Though brief, his role as Kajal's dance master is hugely entertaining.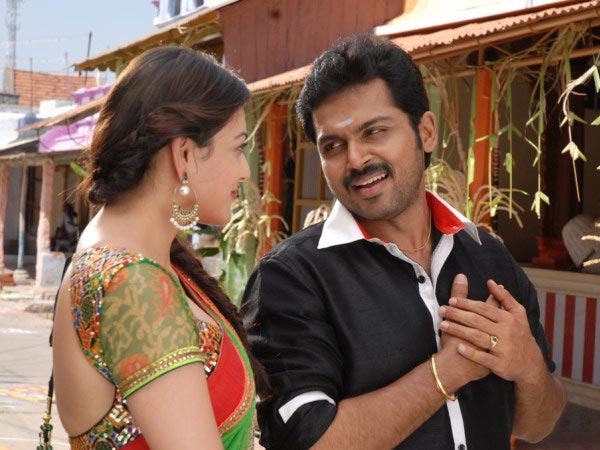 Saguni and Alex Pandian, Karthi desperately needed a hit.
Unfortunately his bad luck continues, as All in All Azhagu Raja has absolutely nothing to offer to an actor of Paruthiveeran calibre.
The film is a mess. There is nothing to even remotely suggest that it is directed by M Rajesh, who is considered the master of comedy in the Tamil film industry with three back-to-back hits–Boss Engira Bhaskaran, SMS and OKOK.
All in All Azhagu Raja is a painfully long, altogether boring and surprisingly pathetic attempt by the director. A total waste of time and money.
VERDICT
1 . Film that seriously tests your patience
2. Unfortunately his bad luck continues, as All in All Azhagu Raja has absolutely nothing to offer to an actor of Paruthiveeran calibre.
3.  A comedy story presented in a boring way. Watch it if you love Santhanam's comedies or if you are Karthi's fan.
RATE
0.2/5 (only for SONGS)