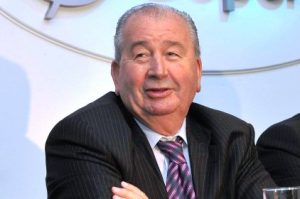 Julio Grondona, the veteran president of the Argentine Football Association (AFA) and FIFA vice-president, died on Wednesday at the age of 82 in a Buenos Aires clinic, AFA sources reported.
The all-powerful figure, who had been in charge of Argentine football since 1979, had been taken to hospital suffering from heart problems and died while undergoing emergency surgery.
Earlier this week he had held meetings with Alejandro Sabella, who decided not to continue as Argentina coach after leading the team to the World Cup final in Brazil recently.
Grondona had been a FIFA Executive member since 1988, heading its finance committee, and was appointed to the head of AFA nine years earlier by the country's military government.
He had been successfully re-elected to continue governing football in the South American nation every four years since 1979, enjoying the unconditional support of the country's 22,000 clubs.
His time in charge saw Argentina win the World Cup in Mexico in 1986, the Copa America in 1991 and 1993 and Olympic gold in 2004 and 2008, while in his earlier years he founded Arsenal, a club from the Buenos Aires suburb of Sarandi who emerged recently as a force at the top level.
But his FIFA links have brought regular accusations of scandal.
He was recently accused by opponents of President Cristina Kirchner of diverting millions of dollars of government finance to the AFA in return for television rights.
Before the last AFA election in 2011, Carlos Avila, a former associate of Grondona and owner of the TyC Sports television channel, alleged that the association president had 12 undeclared bank accounts in Europe and the United States.
"You want to know what I think of Grondona? OK, Grondona is the 'puntero' (informal military chief) for FIFA," Avila said at the time calling for an investigation.
"It is public knowledge that Julio has an absolute power over the management of football. He has always based it on the poverty of (Argentinian) clubs," he added.
During the recent World Cup, the AFA was allegedly involved in an international scandal over the illegal sale of VIP hospitality tickets which was investigated by Brazilian police.
One ticket found to be illegally sold was in the name of Humberto Grondona, son of the AFA president. The son denied involvement in illegal activities though he admits selling the ticket to a friend. The ticket is not part of the Brazilian investigation.