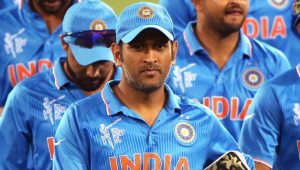 India are set to play Zimbabwe in a three ODI and two T20 series and the final match of the tour will end on July 19, leaving little rest for players in between.
"We are working out the modalities and the programme will be out in 2-3 days. We are keen that the Indian team returns from Lanka by September 2 or so, so that they have a complete break of one month before the home series against South Africa in October-November," a BCCI source said.
"At present the tour is due to start around August 11 but we want it to be advanced by a week as the team would have returned from Zimbabwe by July 20," the source added.
September, however, could see the alternative tournament to the T20 Champions League, as planned by BCCI, taking place but no details have emerged thus far on this front.
The Test series would be India's first in Sri Lanka after five years. India drew 1-1 in the previous rubber between the two teams held in the Emerald Isle in August, 2010.
After returning home from Lanka, India awaits South Africa for a full series of Tests, ODIs and T20Is.
South Africa will play four Test matches (Ahmedabad, Delhi, Nagpur and Bengaluru), five One-Day Internationals (Chennai, Kanpur, MP, Rajkot and Mumbai) and three T20 Internationals (Kolkata, Mohali, Dharamshala).
Reports have emerged quoting a top official of the Gujarat Cricket Association that Ahmedabad's Motera Stadium would not be available to host the Test match as it is to be revamped totally. But the BCCI source said nothing on these lines has been communicated to the Board by GCA so far.
The series against South Africa will be followed by a three-game T20I series against Sri Lanka in February, 2016. It is scheduled to be played at Vishakapatnam, Pune and Delhi, as a precursor to the World T20 Championships to be hosted by India immediately afterwards.