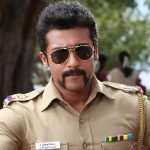 Bollywood is watching Suriya very closely it seems. His Ghajini was remade in Hindi with Aamir Khan and Asin and had record collections at the box office besides making a big star out of Asin. Aamir was full of praise for Suriya's performance and his words influenced other leading stars to keep an eye on the wealth of talent that is Suriya.
Not surprisingly, shortly after that Ajay Devgn took a leaf out of Aamir's book and chose to hop on the remake bandwagon. The result was that Suriya's film with Hari, Singam was made in Hindi as Singham with Ajay and Kajal Agarwal. This film repeated the success of its predecessor and has become a milestone in Ajay Devgn's career. The film has also given a big boost to Kajal Agarwal's Bollywood aspirations. Anushka, who was originally asked to reprise her role, said she regretted not doing it and is waiting for her big break in Bollywood.
John Abraham is the next in line to use a Suriya film to revive his prospects in Bollywood. After delivering a few films that met with a lukewarm response from the audience, he took a break from films and was mainly in the news for his breakup with Bipasha Basu. John is dying for a hit and he has chosen Kaaka Kaaka remake as his comeback film. Genelia is his heroine and the film is called Force. Kaaka Kaaka is considered by many to be one of Suriya's finest films and the makers of the film in Hindi are upbeat about its prospects of striking gold at the box office.
Suriya caught maverick filmmaker Ram Gopal Varma's eye and the director gave him a meaty role in his Raktha Charithra. The critics and fans loved Suriya in the film. Having had a taste of him, Bollywood is hankering for more but Suriya politely declined and made it clear that Tamil cinema is where his heart is. We are thrilled with his decision, after all who can get enough of Singam Suriya?