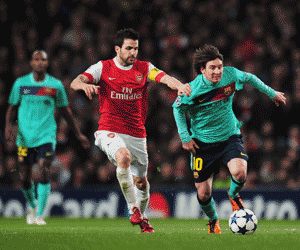 BERLIN: Arsenal came from behind to score two late goals against Barcelona for a 2-1 victory in a Champions League first-leg match in the round of 16, while Shakhtar Donetsk scored an upset 3-2 victory at AS Roma in Wednesday's other game.
In London, David Villa scored for Barcelona midway through the first half, but late goals from Robin van Persie and Andrey Arshavin gave the home side the victory.
The Premier League side were not overwhelmed by the task of taking on the Spanish giants and created some chances early on, but Robin van Persie's shot in the sixth minute was well saved by Victor Valdes.
Somewhat against the run of play, Villa found the opener for the visitors in the 26th minute after being sent through by Lionel Messi.
The goal seemed to settle the Spanish side, who looked closer to doubling their lead than Arsenal were to levelling matters.
With 20 minutes to go, Arsenal found their form again, and Van Persie equalized in the 78th minute when he beat Valdes from an acute angle in the short corner with a shot that the goalkeeper should have stopped.
The Dutchman admitted that he was surprised the ball had gone in.
"I don't know how it went in. I need to look at it again," Van Persie said.
"We played our own game. If you sit back against them, they are so good they will beat you by far. We had to beat them in their own style, and we gave everything. In the end we were a bit lucky for a fantastic win."
Arsenal coach Arsenne Wenger said it was a great game.
"It was a special match, and we managed to fulfil our promise, and I am very pleased that we showed mental strength to come back," he said.
"I think in the second half we were tighter in our marking, and I think they became a bit weaker physically. I am not sure how big the chance is for us to go through, but the team now knows that it is possible to beat a great team like Barcelona."
The Gunners were rewarded for their enterprising game in the 83rd minute when Arshavin scored from a Samir Nasri cross.
Barcelona will be without Gerard Pique in the Camp Nou after he received his third yellow card in the competition.
In Rome, meanwhile, there was a samba party for Shakhtar as all three goals for the Ukrainian side were scored by Brazilians, with Jadson, Douglas Costa and Luiz Adriano getting their names on the score sheet in the first half.
Razvan Rat gave the home side the lead in the 28th minute when he deflected a Simone Perrotta header into his own goal, but Shakhtar's Brazilians turned matters around with three goals in the space of 13 minutes.
Jeremy Menez pulled one back for the Serie A side on the hour, but they could not find a third goal to give them a draw. The Frenchman will, like Marco Cassetti, miss the return leg after picking up his third booking of the competition.
Yaroslav Rakytskyy also received his third yellow card and is suspended for the return leg.
Shakhtar coach Mircea Lucescu said he thought his side played well.
"I think we played a good game. They knew we were a good team. In the second half I saw a great Roma. They pressed and played and scored," Lucescu.
"I do not understand the boos (against Roma) at the end. It is difficult to play in this situation. We took advantage of their mistakes in defence. I knew that if we pressed them they could not play their game."
The remaining four round of 16 first-leg matches will be played next week.