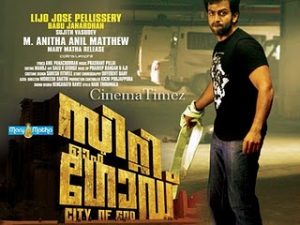 It all begins with a fatal accident and takes us along to the intricate events that lead to the crash. Obviously it involves the lives of a few individuals and it intertwines in a peculiar way. The format made famous by several spectacular films like Amores Perros, Babel and Crash among many others has been repeated by scenarist Babu Janardhanan and director Lijo Jose Pellissery in City of God.
Jyothilal (Prithviraj) is a criminal, who is ready even to risk his life for his boss Sony Vadayattil (Rajeev Pillai), a wealthy businessman. Viji Punnoose (Swetha Menon) is a widow who has to settle some scores with Jyothilal. Sooryaprabha (Rima Kallingal) is an actress with a sad past that continues to haunt her. Marathakam (Parvathy) is a Tamil labourer, who has come to Kochi, from Palani. She has fled from a failed marriage and is in love with a fellow Tamil worker named Swarnavel (Indrajith).
How their lives come across at certain points, is the interesting aspect here. In all fairness, the storyline is by and large, pretty convincing. But the problem is that in the pursuit of adhering to the film's format, the pace gets affected in a big way. Also, several details that would have made the narrative more engrossing get sidelined.
There are too many events happening and the characters go through curious situations all the time. After a while, the viewer tends to get bored and lose interest as the story is not focused anywhere. Only a few characters make an impact in the viewer's mind as well.
Babu Janardhanan's script lacks the depth that has been the strength of the films in the genre. Lijo Jose Pellissery, who showed great promise with his maiden film 'Nayakan', comes up with flashes of brilliance but it is not just working perfectly well here. The visuals by Sujith Vasudev and the music by Prasant Pillai are also good in parts.
Prithviraj has to maintain a sober face all along, which he does pretty well. Indrajith is good as the Tamil labourer. Parvathy, who appears in a thoroughly deglamourised look, is just brilliant. Rima Kallingal looks fine but Swetha Menon has a limited role to play. Rohini, Rajeev Pillai, Sudhir Karamana, Jagadeesh and the rest of the cast have done their roles in a decent way.
City of God has dared to tread an unconventional path and the willingness to experiment, which is quite unlike most Malayalam films during these days, is something to be appreciated. But the question is that if the attempt has been a successful one. Sadly, too many plots have ruined the fun here to a great extent and things even get pretentious at times. As the end credits start rolling, one gets the feeling that this film could have been much better. An earnest experiment that fails to get the perfect results, perhaps!