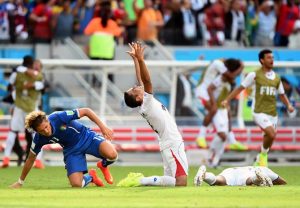 Costa Rica stun Italy, England, Costa Rica, World Cup, hampions Italy, England, PSV EindhovenCosta Rica continued their giantkilling spree in the World Cup as they defeated four-time champions Italy 1-0 to make it to the Round of 16 in the process knocking England out of the tournament.
Skipper and PSV Eindhoven striker Bryan Ruiz headed home the winner in the 44th minute as Costa Rica became the first team from group D to qualify for the knockout round.
The win also meant curtains for England in the group which was termed as the 'Group of Death' also featuring Croatia. While Italy will need a draw to make it to the last 16, Uruguay can't settle for anything less than a victory.