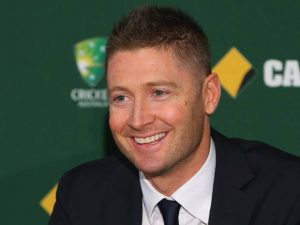 Australia captain Michael Clarke says it is possible a batsman will crack the 300-run barrier in one-day international cricket.
David Warner, the left-handed opener belted 178 from 133 balls in the Australian innings of 417 for six, falling when the chance to become the fifth batsman to score an ODI double century beckoned.
There were still 12.3 overs remaining in the Australian innings at the time.
Indian Rohit Sharma holds the record for the highest individual with 264 against Sri Lanka at Kolkata last November, while Chris Gayle scored 215 earlier in the World Cup for the West Indies.
All the individual scores of 200 have been made since 2010 and Clarke said it was no longer unthinkable that a batsman could make 300 in a 50-over game.
He said there were a handful of batsman who were capable of reaching what was once an unimaginable milestone.
"Someone like Davey, or Chris Gayle or AB de Villiers … on a smaller ground I think they possibly could," he said.
"You probably have to open the batting so you have the full 50 overs.
"In this game at the moment who knows, we are seeing so many different shots, different deliveries, so much power.
"There is handful of players round the world who probably could do it."