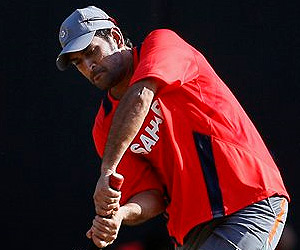 NAGPUR: Under fire for persisting with a struggling Piyush Chawla in the ongoing World Cup, Indian captain Mahendra Singh Dhoni on Friday said he was not bothered by what critics say as long as as he thought he was taking "honest" decisions.
Former players from India and abroad have criticised Dhoni's team combination with some of them bluntly telling him to drop leg-spinner Chawla and bring in off-spinner Ravichandran Ashwin, but the Indian skipper remained unfazed.
"Frankly, I am not bothered by what others say. When I select a team, I try to look at it as how honest I am", Dhoni said ahead of India's tough group league match against South Africa.
Dhoni continued to back an off-colour Chawla who according to him needed to play more than Ashwin.
"Piyush needed a game more than Ashwin because of the kind of applause he has received from you people," he said with a tinge of sarcasm at the pre-match press conference.
"Piyush needed to get his confidence back. It has been a tough mental battle for him. As far as Ashwin is concerned, he works a lot on his bowling and the variations. He is quite matured and is mentally tough," he said.
He, was, however, forthright in his admission about playing it safe rather than going for experiment with the team combination.
Asked whether he is mulling on playing Yuvraj Singh as the second specialist spinner, Dhoni said, "I don't think that is an option. Yuvraj has done well but it will be putting too much pressure on him. If he has a bad day, we don't have many people who can do the job for us. We don't have Raina in the side and Sehwag is also not bowling. I prefer being on the safer side rather than go for experiment."
Dhoni refused to divulge anything about the possible team combination for Saturday, though he termed the Jamtha track here as one of the best wickets in the competition.
"This is among the better tracks. There is a bit more bounce but no extraordinary seam movement. Also there will be a bit of turn for the spinners. However, I am not exactly sure whether the dew will be a factor," he said.
Dhoni said he was also not concerned by Harbhajan Singh not getting wickets, saying the off-spinner has been containing runs.
"Harbhajan knows his job. He has been playing international cricket for a decade. It's not always easy if you expect 3-4 wickets everytime from a bowler. He has been restricting the opposition batsmen which is giving the bowler from the other end a chance to attack.
"Often in India, a performance is considered good if you take five wickets or score a hundred. But I am happy if I have two bowlers giving away 70 runs in 20 overs even if they don't take a wicket," he said.
The Indian captain is also not bothered about Sachin Tendulkar and Virender Sehwag not being able to convert the starts regularly.
"Sachin and Viru are such players if they are at the crease long enough, they can make life difficult for the bowlers," he said.
Asked about how Tendulkar has been motivating the team, Dhoni shot back, saying, "Let's not put pressure on one individual to motivate the team. Everyone is motivating everyone. We know what is expected of us but we are more focused on the process."
Dhoni, who scored a century in his last ODI played here against Sri Lanka, was also not thinking of promoting himself up the order against South Africa on Saturday.
"If you look at Gautam and Virat, who are batting at number three and four positions respectively, they have been doing well," said Dhoni.
He was happy that India are playing against South Africa and West Indies in their last two group league games as these would help the team in the quarterfinals.
"We are already in the quarterfinals but getting two big games always helps you to get that bit of momentum going your way. But as I have always stressed, doing well on that particular day is more important," he said.
Dhoni said the biggest positive for the team going into the knock-out stage has been the manner in which the players have been put to test in various situations.
"We have had a tie. We have batted first and scored runs and also chased successfully in the last two matches. We have played on good batting tracks and also pitches which are slow in nature. So we have had a lot of exposure," he said.
Dhoni saved his best for the last when a scribe asked as to why he he has stopped smiling.
"You people stop asking questions, I would start smiling," was Dhoni's tongue-in-cheek reply.