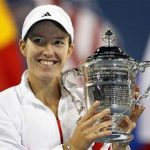 Beijing: Former world number one and seven-time Grand Slam winner Justine Henin says she is not ruling out another major title despite seeing her comeback season cut short by an elbow injury.
The Belgian, who will train in southern China this month before heading to Australia to open her 2011 season with the mixed-teams Hopman Cup in January, also has her sights set on the 2012 London Olympics.
"Step by step I am heading in the right direction now, but only winning matches can give me that confidence," Henin told the China Daily, as she passed through Beijing en route to tropical Hainan island.
"I've been working very hard. If my elbow continues to improve in the next few weeks or months, I think I have good prospects for the future," she said.
When asked about the possibility of winning another Grand Slam crown, the 28-year-old said: "If I am physically fine, I hope I can win another Grand Slam."
She admitted that winning Wimbledon, the only Slam that has thus far eluded her, would be "fantastic". She has twice been a finalist there.
Henin's 2010 comeback season ended in June when she damaged a ligament in her right elbow at the All-England Club in a fall during her fourth-round loss to Belgian rival Kim Clijsters.
The four-time French Open champion returned to action earlier this month in an exhibition match against Clijsters, who took the match. Henin will pair with Steve Darcis for the Hopman Cup in Perth, where they are fourth seeds.
Henin admitted the rigours of life on the WTA Tour had taken their toll, and coming back in early 2010 after 18 months in retirement had not been easy.
"I had a pretty good start… but after playing tennis for 14 years it was physically very hard for me to come back. I am just slowly coming back to the top. I was never 100 percent fit this year," she said.
Looking ahead, Henin — who won gold at the 2004 Athens Olympics — said she hopes to compete for another Olympic medal in London.
"My goal is to play in London," she said.
"Winning the gold in Athens was one of the best moments of my career. It's special playing in the Olympics. You are playing for your nation and you don't feel alone on court."