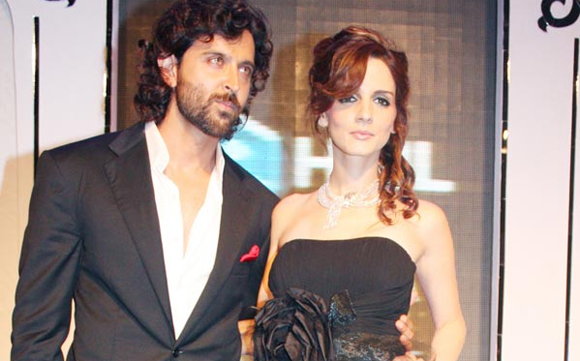 Hrithik Roshan announced on Friday that his wife Sussanne had decided to leave him.
"Sussanne has decided to separate from me and end our 17-year relationship (13 years of marriage). This is a very trying time for the entire family and I request the media and the people to grant us our privacy at this time.
I do not wish this news to disempower my fans and the people about the institution of marriage in any way. I am a firm believer in this institution and respect and honour it at the highest level," he said in a statement. "I thank my fans for all the concern and prayers for my health. My treatment is going fine.
I should be able to resume my life in every way very soon," Hrithik, who underwent surgery for a clot in his brain last month, said.
The two were childhood sweethearts and had a dream wedding after a four-year romance. They have two sons, Hrehaan, 7, and Hridaan, 5. Rumours of trouble in their relationship began to surface with Bollywood gossip linking Hrithik to Mexican actress Barabara Mori. Hrithik's hectic work schedule added to the troubles.
Sussanne herself was subsequently linked with her and Hrithik's friend Arjun Rampal. She left the Roshan family home three months ago and is currently staying in an apartment with their two children.
Courtesy : Deccan Chronicle