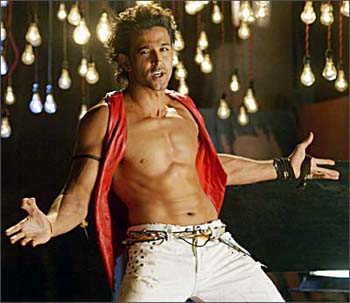 Actor Hrithik Roshan, who is very eager to hand-pick the dancing talents for the show Just Dance was not able to attend the Delhi auditions. His shooting for the film Agneepath kept him tied to the sets in Mumbai. However, the news of his arrival created a rage in Delhi auditions, which was difficult to handle by the security guards.
However, Hrithik plans to attend the Mumbai auditions of Just Dance to make up for his absence from the Delhi auditions. Monika Shergill, senior creative director, Star Plus, confirms to Mumbai Mirror, "We were really hoping he'd make it but Hrithik just couldn't. It's understandable because Agneepath's schedules are on. And expecting the film's hero to spare time for anything is asking a lot. If we're lucky, he'll be there at the Mumbai auditions."
Shergill added, "We're keeping our fingers crossed for the London and New York auditions. If not Mumbai, then we hope he makes it to any of the other two cities, because those are our last destinations."
Well, we hope Mumbai gets to see some moves of Hrithik during the auditions.