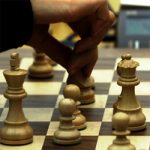 Hatay (Turkey): Top rated Indian player Koneru Humpy made it to the second round of the World Women's chess championship at the expense of Melissa Greeff of South Africa on Tuesday.
Grandmaster norm holder and former world Junior Girls' champion D Harika came back strongly in the return game to beat compatriot Kruttika Nadig and also eased her way to the next stage in this knockout event based on two-games mini-matches followed by tiebreak games in case of a deadlock.
The 450000 USD championship saw the early elimination of other two Indians ? Souymya Swaminathan and S Meenakshi.
Soumya fought hard but could not do much against Monika Socko of Poland and had to sign peace, while Meenakshi suffered her second defeat in as many rounds at the hands of former world women's champion Maia Chiburdanidze of Georgia.
At the end of the Classical games of the first round as many as 25 players, including Jovanka Houska of England and Ju Wenjun of China who got Walkovers, made it the second round in this 64-players' event.
The remaining seven matches will be decided in the tiebreaker.
In major surprises of the first round, highly regarded Natalia Pogonian of Russia and Natalia Zhukova of Ukraine were eliminated by Baira Komanova of Marina Romanko (both Russia) respectively.
Local hopeful Yildiz Betul Cemre also came with a fantastic result defeating GM Pia Cramling of Sweden when the latter lost on time and was shown the ouster door.
For the second day running, Humpy displayed fine form to beat Melissa again. It was a queen pawn game that was constructed by the Indian in the style of former world champion Capablanca wherein Humpy increased pressure in the middle game and won a couple of pawns to force matters. Melissa hung in the game for quite some time, hoping for a miracle that never happened.
Another Indian Harika was in for a surprise yet again against Kruttika as the former, rated around 300 points below than her highly acclaimed compatriot, came up with another inspired performance.
However, the experience of playing in top level events came in handy for Harika as she kept her nerves to steer a wild middle game to her advantage. Once on top, Harika was merciless and won a nice game.
In other top matches of the first round, defending Champion Alexandra Kosteniuk of Russia and Yifan Hao of China made merry and will meet a tougher opponent in the next round like Humpy and Harika.
Important results round 1: Alexandra Kosteniuk (Rus) beat Amina Mezioud (Alg) 2-0; Koneru Humpy (Ind) beat Melissa Greeff (Rsa) 2-0; Carla Heredia Serrano (Ecu) lost to Yifan Hao (Chn); Soumya Swaminatha (Ind) lost to Monika Socko (Pol) 0.5-1.5; S Meenakshi (Ind) lost to Maia Chiburdanidze (Geo) 0-2.