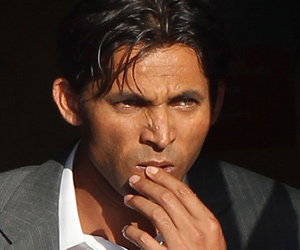 KARACHI: Banned Pakistani pacer Mohammad Asif says he is determined to clear his name from the spot-fixing scandal that shook world cricket last year.
Asif along with former Test captain Salman Butt and young pacer Mohammad Aamer was handed out bans by the International Cricket Council (ICC) for their involvement in a spot-fixing scandal during the Lord's Test last year. The three cricketers are also facing criminal charges in England.
The 28-year-old Asif, who had earlier served a one-year ban for doping, said he was disappointed with the five-year ban imposed on him and was determined to get his career back on the track.
"I'm bitterly disappointed with the verdict that was announced in Doha. I am determined to totally clear my name and to get back to what I love doing and that is playing cricket for my country," Asif was quoted as saying by PakPassion.net.
Asif said it was painful for him to miss the ongoing World Cup.
"It's tough watching the boys on television and not being part of the team. I find it really painful to watch and it really hurts that I'm not there at the World Cup with my team mates. It's every cricketer's dream to take part in the World Cup. It would have been an absolute honour to wear the green of Pakistan and help the boys bring the trophy home," he said.
Asif, who equalled Pakistan coach Waqar Younis' record of getting 100 wickets in just 20 Tests, said he was willing to reveal everything, but at an appropriate time.
"When the time is right, I will be prepared to speak to anybody regarding the spot-fixing accusations, I have nothing to hide regarding the matter and I would welcome the opportunity to talk about the accusations in full detail."
The website also reported that the Sheikhupura born paceman was contemplating to appeal to the Court of Arbitration of Sport (CAS) to clear his name.
"Asif will definitely be going to the Court of Arbitration of Sport in Lausanne. He was very disappointed with the verdict in Doha and wants to clear his name and prove to everyone that he was an innocent party in events at Lord's against England last summer," the website quoted a source close to the bowler.