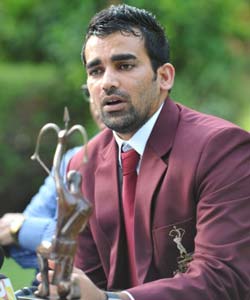 Gearing up for the second phase of his rehabilitation, senior Indian pacer Zaheer Khan is hopeful of making a comeback through the Champions League Twenty20 in September before the home series against West Indies.
"I am looking forward to play in Champions League which is beginning next month. That's a good goal to have but I have to see how my bowling rehab goes and what kind of feedback I get from my physio," Zaheer said.
India's senior most fast bowler strained his left latissmus dorsi muscle during IPL this year and because of that he missed the tour of England.
"I am starting my second phase of rehab this week which is bowling phase. Thereafter I will see how things unfold and hopefully in another five weeks or so, I will look to bowl 100 per cent," said the pacer who has 311 wickets in 92 Tests and 281 scalps in 200 ODIs under his name.
"When injuries happen it's not an easy phase to deal with. You have to be patient and work on recovery under right guidance. I have been doing the same thing every time I have had any injury. There are phases in rehab and when you are 100 per cent fit, you just come back," he added.
Injuries during his 14-year-long career have inspired him to start 'Pro Sport' which provides fitness training and physiotherapy services.
Team India's former physio Andrew Leipus and former trainer Adrian Le Roux are also a part of it.
"It's one of my dream projects and it has got a straight connect to my career. Being an athlete you always have your share of injuries and I was no exception. Through those experiences where I was always going abroad for special advices, I felt that this kind of setup should be in India as well," said Zaheer.
"Leipus and Adrian also came in as we wanted the best people to come on board and help. We want to provide this kind of access to not only athletes, but also reach out to school kids to add on to their skills in sports," he added.
Despite the defeat in third Test, Zaheer is happy with the way Team India especially the pace battery has performed in England so far.
"It's a young team and we have to give them time. More they play in overseas conditions, more they will learn. That's how we have done well in the past. The reason behind the overseas success in the past was that the team was settled.
There were experienced players who were used to touring. Those things matter," Zaheer said.
Zaheer was appreciative of team efforts in the second Test at Lord's where India won – their first in 28 years at the historic ground.
"At Lord's India were amazing and I feel it was a total team effort. Ajinkya Rahane's ton in the first innings was commendable conditions were tough to bat on.
He really set the platform for bowlers to work on. Bhuvi's