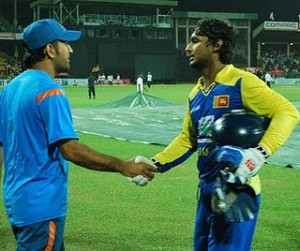 The ICC Cricket World Cup 2011 final match between India and Sri Lanka might not be as big as India and Pakistan semi-final. However, the heat and intensity to win the biggest prize will keep the same.
As Sachin Tendulkar is planning to quit after this World Cup, there is lot of tension, pressure and the responsibility will be on the players of Team India. Comparatively, Muttiah Muralitharan announced that he will be retired after the completion of the tournament. Here we give you the analysis of the final battle between the two sub-continents.
Getting the stats of the Indian cricket team, the cricket experts say that bowlers makes the team to win the test matches and the batsmen makes the team to win the One Day Internationals. If this is the exact prediction made on the team, then the first three slots will be occupied by Sachin, Sehwag and Gambhir where as the sixth and seventh will be taken by Dhoni and Pathan. For the remaining two places of 5th of 6th, there is an opportunity for Kholi, Yuvraj and Raina.
Coming to the bowling attack, Dhoni made the bowlers play in different strategies against Australia and Pakistan. He kept on rotating the spell and there by getting the correct results on time. Currently, Harbhajan Singh is the experienced bowler as Dhoni might slightly come up with Ashwin to get better results in the spinning section. However, the part-time spinners including Yuvraj, Raina may be used at right time when the situation demands. The pacers Zaheer Khan and Munaf were considerably doing good as observed in the semi-final. Ashish Nehra is out of the team due to injury.
Observing the facts of the current tournament, three of the Sri Lanka batsmen were in the top listed high-scorer batsmen. Sri Lanka opener, Tillakaratne Dilshan is leading with 467 runs from his eight matches followed by Sachin Tendulkar with 464 runs. The other two batsmen were Kumar Sangakkara scored 417 runs and Upul Taranga is place fourth with 393 runs. He is followed by Virender Sehwag with 380 runs. During the final group match against England, the openers Dilshan and Upul Taranga have swept off the innings without loosing a wicket. These are seemed to be stronger on their side.
Viewing the bowling tracks of the Sri Lanka, Lasith Malinga and the half-fit Muralitharan might be on the stronger side, supported by Ajantha Mendis. Fortunately, Chaminda Vaas and Suraj Randev were called up as the standbys ahead of the ICC World Cup 2011 final against India on April 2nd.