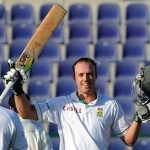 Johannesburg: The mind games have started ahead of the India-South Africa Test series with Proteas star batsman A B de Villiers saying that there would be a question mark on the visitors' number one ranking if they falter in the three-match series starting December 16.
"There's been this feeling and stats show it, that their batters score bigger and they generally perform better at home – which is normal. This will be a big test for them. There's always been the label that they struggle in South Africa," De Villiers told 'The Independent'.
"If they don't have success here, there'll definitely be a question mark about their No. 1 ranking," he said.
De Villiers said he admires Sachin Tendulkar in the Indian team but hoped that the veteran right-hander does not strike form in the three-Test series starting in Centurion.
"Sachin is a legend of the game and I'll always look up to him and it's great that he is here. It might be his last series in South Africa, so you've got to enjoy having the man around, but I'm hoping he doesn't score too many hundreds."
The 26-year-old De Villiers has 4540 runs in 63 Tests at an average of over 47 and has been a mainstay of South Africa's batting line-up.
Talking about his team's chances in the upcoming series De Villiers said the visitors would gain from having South Afircan Gary Kirsten as coach but the hosts have the quality bowlers to contain their much-vaunted batting line-up.
"He (Kirsten) has got a lot of knowledge of conditions here. They'll have all the necessary information. They are a class team and they gave us a run for our money the last time they were here."
"I back our seam bowlers. Dale (Steyn) and Morne (Morkel) will be big danger men. We are playing at home we should know the conditions."
The holder of the highest Test score by a South African batsman (278), De Villiers said he couldn't have asked for better professionally.
"I'd be a loser if I said I was happy with my career right now – I'd like to achieve a lot more. I have my goals now and I just want to go out there and win games for the team."
De Villiers said having captain Graeme Smith's backing has also worked wonders for him.
"I'm the type of guy that needs a boost every now and then from the coaching staff and the captain. Graeme Smith's always been there for me, backed me 100 percent, even during the bad times," he said.
De Villiers has so far scored two double hundreds in his Test career and he considers the 2008 knock of 217 against India as the one which turned it around for him.
"That's where the belief started, that I could go bigger than 120 or 140. The average comes with those big scores, the not outs, the double hundreds and makes everything look a lot better. I pride myself on good performances when the team is down, and that's where it started for me," he said.