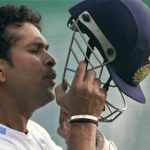 Cape Town: The Indian cricket team suffered an injury scare as Sachin Tendulkar escaped unhurt after he was hit on the helmet by a rising delivery from fast bowler Umesh Yadav during pre-series training at coach Gary Kirsten's academy here.
A delivery from the uncapped right-arm paceman caught Tendulkar by surprise as it hit the left side of his helmet as he ducked, expecting the ball to rear up higher and pass overhead during the morning training session at Claremont Cricket Club last evening.
Tendulkar, who was among the second batch of players who reached here, took the very audible whack with great calmness, even as colleagues in both his and the other nets swiftly turned heads out of concern for his well-being.
The 37-year-old veteran of 174 Tests simply stooped a little, removed the helmet and inspected it, while Yadav rushed in but heaved a sigh of relief after laying his hands on Tendulkar's head which apparently did not have any signs of taking the blow.
Tendulkar then carried on serenely as if nothing had happened and shortly afterwards S Sreesanth sent him a shortish ball that barely climbed knee height, which caused some amusement.
He was batting on a strip which was with some up-and-down sort of bounce apparently prepared by Kirsten as part of preparations for the three-match Tests series against South Africa starting at Centurion on December 16.
"You can't control these sorts of situations in a net environment. It even happens in India; guys get hit on the glove and so on. You just have to hope nothing too serious occurs," said Kirsten afterwards of Tendulkar's minor scare.
"Interestingly enough the one net here is pretty flat and low and the other is going around a bit. The guys wanted to use the one that was more (spicy). I'm pretty excited about that; we'll use the one that`s going around a bit again tomorrow," he said.
Kirsten wanted to simulate the South African pitch conditions as best as possible as India are not having any warm-up game before the Test series.
The Indian squad will reach Centurion on Monday.