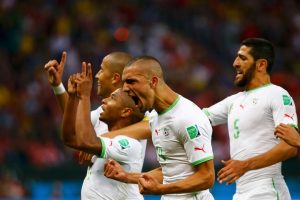 For the Algeria squad, this has been a tournament of breaking new ground.
First, Algeria won its first World Cup match since 1982 – a 4-2 victory over South Korea, and then on Thursday it qualified for the knockout stages for the first time.
Islam Slimani's 60th -minute headed equaliser was enough to gain his team a 1-1 draw against Russia and the one competition point it needed to place second in Group H behind Belgium.
Now, Algeria has another 32-year anniversary on its radar.
On Monday, the Algerians will meet Germany in the Round of 16 in Porto Alegre.
The teams haven't met since 1982 when Algeria beat West Germany, one of the tournament favorites, with Lakhdar Belloumi memorably stroking home the winner. Though it went on to win another game in that tournament, Algeria failed to qualify for the second round of the World Cup after West Germany and Austria played out a result that suited both of those teams.
The European teams, meeting a day after Algeria had won its last group game, knew that a 1-0 win for West Germany would put both through to the second round at Algeria's expense.
Qualification for the second round in Brazil finally allows the team from north Africa to move on from one of the World Cup's most contentious episodes.
And the relief was certainly evident in the celebrations on the pitch.
Qualification prompted mass celebrations in the packed Algerian section in Arena da Baixada in Curitiba, and on the pitch among the players. Even the combative coach, Vahid Halilhodzic, was hugging staff and players and shaking his head in apparent disbelief.
"I'm very proud of what we achieved tonight," Halilhodzic said. "I think Algeria played a heroic match and our qualification is perfectly deserved."
Algeria had to come from behind to get through. Russia, needing a win to advance, went on the attack from the start and dominated the first half with its intricate and swift passing movements through midfield. The Russians took the lead in the 6th minute when Alexander Kokorin powerfully headed in a left-foot cross from Dmitry Kombarov.
Slimani's equalizer came after Russia goalkeeper Igor Akinfeev failed to catch a swinging left-foot free kick from Yacine Brahimi. That was the second costly error that Akinfeev has made in the tournament for Russia, though there were indications on the TV broadcast that a green laser was being shone toward the goalkeeper just before the free kick was taken.
Russia coach Fabio Capello said his goalkeeper was "blinded by the laser beam."
Halilhodzic said he saw nothing.
"I think it's something that we can discuss in a restaurant, in a bar, now let's talk about a game that was very demanding," he told