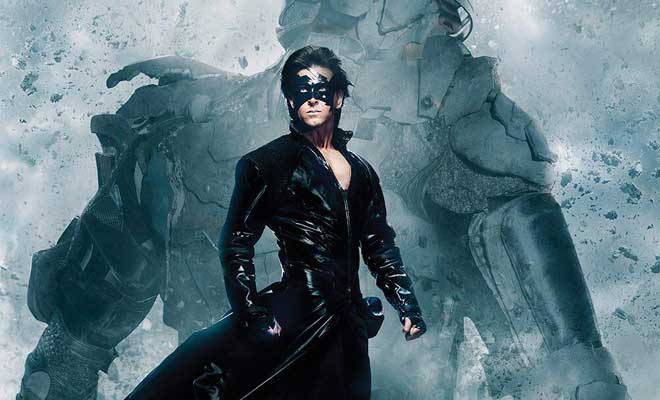 Rakesh Roshan directed superhero film "Krrish 3" has reportedly registered the highest collection for a Hindi film in Andhra Pradesh and Tamil Nadu by earning a total of Rs.14.53 crore in the first week.
"I don't remember any dubbed Hindi film collecting Rs.14.53 crore in its first week in AP and TN. The collection was better in Andhra because the film had a solo release, while in Tamil Nadu it had limited theatrical release due to the release of three Tamil films," trade analyst Trinath told.
In Tamil Nadu, Hrithik Roshan starrer "Krrish 3" had to compete with Ajith's "Arrambam", Karthi's "All in All Azhaguraja" and Vishal's "Pandiya Naadu".
"Ajith-starrer 'Arrambam' covered maximum number of screens followed by Karthi's film and 'Pandiya Naadu'. But since 'All in All Azhaguraja' opened to bad reviews, 'Krrish 3' held its position throughout the first week," he said.
Trinath believes the film will enjoy another week of good run in Tamil Nadu.
"This is the first Friday of the year no Tamil film has released. 'Arrambam' and 'Pandiya Naadu' will continue to lead while 'Krrish 3' can enjoy another week of run at Tamil Nadu box-office. In Andhra, however, with three releases this week, we can expect some drop in the collections," he added.
It's not only the Hindi version of 'Krrish 3' that did well. Even the dubbed Telugu and Tamil versions of the film were received very well.
"The Telugu dubbed version was received far better than the Tamil version. Since there was not a single release in Andhra Pradesh last week but for Vishal's Telugu dubbed version of 'Pandiya Naadu', audiences had to watch 'Krrish 3'," said Trinath.
"I was informed that the Telugu and Tamil versions together did a business of Rs.6.2 crore in the first week," he added.
"Krrish 3" also features Kangana Ranaut, Priyanka Chopra and Vivek Oberoi in important roles.