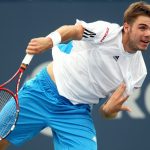 Chennai: Acceding to the request of Beijing Olympic gold medallist and last year's finalist Stanislas Wawrinka from Switzerland, organisers of the 2011 Aircel ATP Chennai Open tennis tournament and IMG, awarded one of the three wild cards to the world number 21.
"Originally Wawrinka had indicated that he would be taking that particular week off, but subsequently, he changed his mind and requested for an entry. The organising committee agreed to allot him one of the three wild cards that were available," Ravi Krishnan of IMG said.
Wawrinka finished runner-up in the singles event last year and besides that, his World ranking helped him in getting a wild card entry.
"Even otherwise, on the strength of his ATP ranking, Wawrinka was entitled for a direct entry in the 32-man main draw. We are of course extremely pleased to have him here, given his stature," said organising committee chairman Karti P Chidambaram.
The other two wild card entries would be decided soon.
Normally, two wild cards are given to Indian players, and Sanam Singh is one of the strong contenders this year.
Wawrinka would add to the star field that includes 2010 Wimbledon runner-up Tomas Berdych, the highest ranked player in the draw at No.6, Marin Cilic (14), Richard Gasquet (29), Jeremy Chardy (45) and Janko Tipserevic (59) in the main draw.
Chidambaram also confirmed the participation of Leander Paes and Mahesh Bhupathi in the tournament, to be held here from January 3 to 9.
"Let us hope that it will be start of a re-run of their golden period," said Chidambaram referring to the "Indian Express".
Paes and Bhupathi would be pairing in this tournament for the first time since 2002.