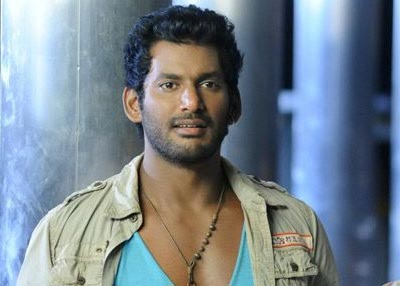 Vishal, Anjali, Varalakshmi Sarathkumar and Sonu Sood starred Madha Gaja Raja directed by Sundar C. has five songs in the audio album composed by Vijay Anthony. Gemini Films Circuit started producing Madha Gaja Raja that is later taken up by Vishal's 'Vishal Film Factory' banner.
Let us go through a quick review of Madha Gaja Raja tracks.
Song 01: Chikku Bukku
Singers: Chinna Ponnu
Rating: 2.5/5
Lyricist: Annamalai
Madha Gaja Raja audio starts with 'Chikku Bukku' track that was firmed up in a traditional folk style with added festive feel. Chinna Ponnu has come up with her native style of singing and it appears to be apt for the song with the male interludes that has definitely helped in the upbeat of the song. Visuals of this song seem to be taken in hours of darkness with the village style group dance.
Song 02: My Dear Loveru
Singers: Vishal
Rating: 2.25/5
Lyricist: Pa. Vijay
For the first time, Vijay Anthony has experimented with Vishal's vocals and made the actor sing himself. 'My Dear Loveru' seems to be a comic style of love proposal track in the college, but emerges to be a dubbing song in real. This song made an appealing work in combination of Vijay's music along with carnatic style of symphony and Pa. Vijay's lyrics that added humor.
Song 03: Nee Dhaana Nee Dhaana
Singers: Vijay Anthony
Rating: 2.25/5
Lyricist: Pa. Vijay
Nee Dhaana Nee Dhaana is the only western composition of Madha Gaja Raja music album. Vijay Anthony's vocals matched the track but that alone not enough to top the charts. This composition by Vijay Anthony might have some poetry with sensible words here and there, but appears to be flat by the time song ends.
Song 04: Sattru Mun Varai
Singers: Santosh Hariharan
Rating: 2.75/5
Lyricist: Annamalai
Sattru Mun Varai is the best piece of this cake with its string interludes and supported meaningful lyrics by Annamalai. Santosh Hariharan has added one more mesmerizing song to his chart and has excelled giving variations in rendering at places. Vijay Anthony's orchestration is good but not outstanding.
Song 05: Thumbakki Thummbai
Singers: Vijay Anthony
Rating: 2/5
Lyricist: Pa. Vijay
Vijay Anthony has made a noticeable attempt with 'Thumbakki Thummbai' song, as the song seems to be in Arabic pace. Also sung by Vijay Anthony, this song is a dance-number with few impressions leading to recently chartbuster 'Gangnam Style'.
Final Verdict: Madha Gaja Raja audio is engaging but not unsurpassed pick.