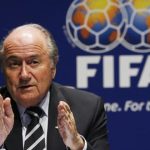 London: FIFA president Sepp Blatter has defended the decision to award the World Cup to Russia and Qatar, saying it was "natural" to spread the tournament around the world.
At the end of a significant year for world soccer's governing body in which the World Cup was held in Africa for the first time, Blatter told FIFA's website that the criticism the ruling body had received was not justified.
"The sporting media don't always appreciate the social or cultural importance of awarding the World Cup finals to a country," he said.
"They just think about penalties, corners, refereeing and money. But, as I've already said, this decision wasn't about making money."
Blatter added that after giving previous World Cups to Asia and to Africa, it was "natural" for FIFA to take the tournament to other regions.
"We have made historic decisions in terms of sport and geopolitics. We've sent the World Cup to new territories," he said.
"The 2018 World Cup will go to eastern Europe and the vast country that is Russia, and the 2022 event will go to Qatar, in the Arab world."
"The World Cup will discover new cultures in new regions, and that's something I'm delighted about."
Blatter said moves to make football a universal sport had started under his predecessor Joao Havelange.
"When I jumped into this project in November 1974 I did so with my feet tied together, and I could see straightaway that there was more to football than just kicking a ball," he said.
"When I became the FIFA President, the decision was made to go into Asia. And then I said we had to go to Africa, which is what we did. It's only natural, then, that we should keep on moving into new regions."
Blatter said he understood the disappointment of the losing candidates.
"But maybe some people have forgotten that in football you have to learn to lose as well as to win," he said.
"It was a competition. Some people won, some people lost. That's normal."
He said this year's World Cup in South Africa had had a huge economic impact on the country.
"2010 has been a year of 'fulfilment', a historic year, one in which we've broken new ground," Blatter said.
"We've had the World Cup in Africa, which is an extraordinary achievement in itself. It's had a phenomenal impact around the world, and the economic impact of the event can never be underestimated."
"Back in 2004, when the competition was awarded to South Africa, the country was a young republic that had been in existence for 10 years and was looking to find its place in the modern world," he said.
"Since then, both the rest of the world and South Africa itself have come to realise just how important a country it is."
He said his only disappointment about the World Cup was that African teams did not do better.
"To be honest, I was expecting to see more African teams in the second round of the World Cup, with one of them going on to the semi-finals," Blatter said.
"Ghana just missed out by the narrowest of margins, though, and there was huge disappointment."