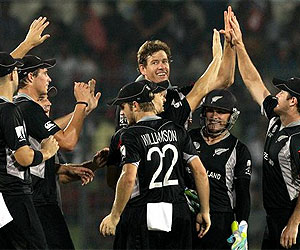 DHAKA: New Zealand produced an inspired fielding and bowling performance to extend South Africa's horror run in World Cup knockout matches with a 49-run upset win in Friday's quarterfinal.
South Africa appeared to be coasting at 108-2 in the 24th over after restricting New Zealand to 221 for eight, but crumbled to 172 all out. The "chokers" tag they had been so keen to banish at this tournament will continue to haunt them.
The turning point came when Jacob Oram took an athletic catch on the boundary to dismiss Jacques Kallis on 47, and the rot set in for South Africa. Oram, who also took four wickets in a man-of-the-match performance, tried to play down his role but concede his catch and and a run out of AB de Villiers did turn the match.
"I don't want to take credit for the win, but I suppose Kallis' dismissal was the turning point of the match," Oram said. "We believe we can go all the way now."
De Villiers was run out for 32 after Faf du Plessis called for a needless single to give New Zealand a second wicket in three balls and leave South Africa reeling on 121-5 in the 28th over.
Tempers flared when New Zealand's 12th man, Kyle Mills, appeared to say something to Du Plessis after running out with the drinks, prompting some barging and angry exchanges between the two sets of players.
It was a sign of the high tension in the middle, tension that South Africa's players succumbed to. Du Plessis and Morne Morkel rallied their team briefly with a ninth-wicket stand of 26 but it was too little, too late.
A jubilant New Zealand team heads to Colombo for Tuesday's semifinal against Sri Lanka or England, while South Africa heads home to deal with the fallout from another big-match failure that leaves them winless in five World Cup knockout matches.
"No words to describe how I feel. Just have to take it on the chin," skipper Graeme Smith said. "At 100-2, we were sitting well, and then we lost too many wickets."
The defeat also brought the curtain down on Smith's captaincy of South Africa's limited-overs team in the worst possible way, while extending Daniel Vettori's reign as New Zealand skipper by at least one match.
For a long time, the match looked like being a masterstroke by Smith, whose tactic of rotating his bowlers in two or three-over spells and varying his fields successfully prevented New Zealand's big-hitting batsmen doing any serious damage.
Jesse Ryder scored a steady 83 for the Kiwis and put on 114 for the third wicket with Ross Taylor, but when New Zealand looked to attack at the end of the innings, the wickets fell on a regular basis.
Vettori was the last man to fall when he was bowled by a clever yorker from Morne Morkel, the second of the paceman's two wickets in the penultimate over.
Vettori's return to the team and the inclusion of World Cup rookie Luke Woodcock and Nathan McCullum meant New Zealand matched South Africa by including three spinners in their team.
McCullum struck in the first over — although the wicket had more than a slice of luck attached as Hashim Amla bottom-edged the ball onto Brendon McCullum's boot and it flew to Vettori at slip.
Kallis and Smith guided the recovery for South Africa but the captain was out for 28 when he sliced straight to substitute Jamie How at backward point.
De Villiers joined Kallis but once again, just as South Africa looked set to take control of the contest, a wicket fell — Kallis attempting to reach the longest boundary over midwicket and finding a galloping Oram instead.
Oram's catch sparked jubilation among the New Zealand players and the momentum gathered pace when JP Duminy was bowled by Nathan McCullum and then De Villiers was dismissed.
Johan Botha, Robin Peterson and Dale Steyn fell cheaply to leave New Zealand on the brink of victory, and though Du Plessis and Morkel made them wait, Woodcock claimed the final wicket to spark the celebrations.