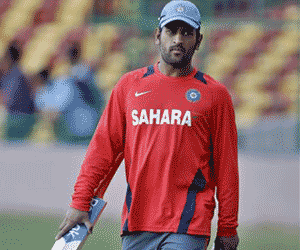 DHAKA: Lauding the One-Day International (ODI) format as an ideal mix of Test and Twenty20 cricket, Indian skipper Mahendra Singh Dhoni Friday exuded confidence that the ongoing World Cup in the sub-continent will be a big success.
"I love ODI because you see a bit of Test cricket and a bit of T20 in one format and you get the result the same day. If you lose three-four wickets, then the batsmen who come in, need to struggle and slog in the last overs. I think it is an ideal mix of Test and T20," Dhoni told mediapersons here.
The 50-over game has been facing a strong challenge from the shortest version after the arrival on the scene of the cash-rich Indian Premier League (IPL) which has provided a heady mix of sports, commerce and entertainment.
Dhoni said ODI games were getting more and more interesting with most teams scoring around 300 runs, which more often is not considered a winning score.
Asked what could be the safe score in the ODI, the dashing wicket-keeper batsman said: "Right now in this format, I feel there is nothing called safe. We have scored close to 413-414 runs and yet won by only a run."
"And we have beaten the best teams scoring only 225 runs. A lot depends on the condition and the pressure you can put on the opposition. Any score can be a good score and any big target can be a gettable target in this tournament," he said.
Dhoni said the World Cup "has to be successful" in the sub-continent.
"Or else it will not be successful anywhere else. It depends on the response of the crowd. The format is such that at the knock-out stages the stronger teams will go. So from quarterfinal onwards, the competition will be tough," he said.