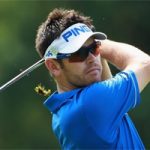 Malelane: British Open champion Louis Oosthuizen missed the cut by one stroke at the Alfred Dunhill Championship on Friday after he was penalised one shot in bizarre circumstances.
The South African, the highest ranked player in the field at world number 24, had been on course to salvage his tournament after an opening round 76 but had to take a penalty on his penultimate hole of his second round.
Oosthuizen, struggling to find the form that won him the Open title at St Andrews in July, put his drive into the semi-rough right of the fairway and then placed his second 30 feet left of the flag, on the first cut of the fringe.
He then had a practice swing half-a-foot from his ball, which moved two centimetres. The 28-year-old immediately called playing partner John Bickerton over, who was unsure of the correct ruling.
Referees Mike Shea and Andy McFee were then contacted and ruled that Oosthuizen must replace his ball to the original spot. Oosthuizen then chipped 12 feet short of the flag and a tricky eight-foot, downhill bogey putt bended away from the hole.
The double-bogey six was followed by a par at his final hole, resulting in a round of 71 and an early finish to his tournament.
"It's tough being mentally tired, it makes it very difficult. I tried my best, but it gets to you. I hate missing cuts, but all you can do is give everything you've got," Oosthuizen told Reporters.
Rookie Anthony Michael moved into a two-stroke lead at Leopard Creek Country Club after shooting a three-under 69 to move to nine-under overall.
He leads a group of three players tied in second place on seven-under – fellow South Africans Dawie van der Walt and Alex Haindl and Briton Robert Rock.