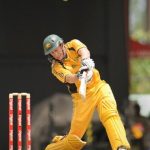 DAVID Hussey is as close as he's ever been to playing Test cricket and has implored the national selectors to pick him for next week's Third Test in Perth.
On the eve of Victoria's three-day match against England, the usually self-depracating Victorian batsman sent a loud and clear message that he can do the job for Australia.
Hussey, 33, is one of a number of batsman – including his own teammate Cameron White – touted as the right man to fill the No.6 batting spot in an Australian Test side that was flogged by an innings and 71 runs in the second Test in Adelaide.
With opener Simon Katich out through injury and No.6 Marcus North under threat of being dropped, Hussey made no bones about declaring his credentials for the job.
"First and foremost I've played 10 years of first class cricket, I have 150 games under my belt, so I have lots of experience and I think I'm ready to go," Hussey, the younger brother of in-form Test incumbent Michael, said before the Bushrangers' final training session.
"I'm desperate to play in this Ashes series for Australia. I'd love to be a part of it and hopefully I'll get the opportunity to score a few runs against England at the MCG in this match and further my case to be part of it.
"If it does happen to fall my way I'd love the chance to play in Perth. My family is from Perth and I'd love to get out there and play in front of them."
Hussey was the leading run scorer in Australia last summer, posting 970 runs at an average of 57.05.
Halfway through this Sheffield Shield season only NSW batsman Usman Khawaja – one of the men in line to replace Katich – has scored more runs.
Through 152 first-class games for Victoria and English county sides Nottinghamshire and Sussex, the rapid scoring right-hander has amassed 11,810 runs at 55.8, including 40 centuries.
Victorian chairman of selectors John McWhirter, a huge fan of Khawaja as a top order Australian player, said the No.6 spot should clearly be the Victorian's.
"I'd pick Hussey, for sure," McWhirter said.
"He's in great from, he's a superb fielder and close catcher and, perhaps most importantly, he's one of finest players of spin bowling in the game," he added, alluding to England danger man Graeme Swann.
Hussey has carried the Victorian batting with a more tempered approach at the crease so far this season, but his intentions in this game are clear.
"Hopefully in this game I can release the shackles and get a monster score, test out the bowlers and keep the English out in the field for a long time," he said, adding that the match also provides a great opportunity for White.
"Cam's played particularly well in one-day cricket. He's a great player and if he gets some runs this week he can press his case as well. He's really improved his cricket and he's got a big future in all three forms of the game for Australia," Hussey said.
White has already scored a century against England this summer while captaining Australia A in the tour match in Hobart before the first Test in Brisbane.
And, given his standing as one of the finest slips catchers in the world and his obvious batting prowess and ability to bowl leg spin, he also looms as one of the main dangers to North.