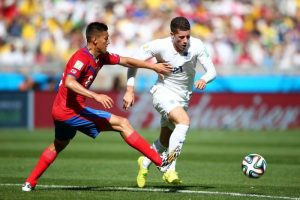 Costa Rica finished first in what many considered the World Cup's toughest group after a dour 0-0 draw against a second-string England side on Tuesday.
Costa Rica only needed a draw to top Group D and played that way, setting up in a defensive 5-3-2 formation.
The result gives Costa Rica its best World Cup performance, winning a group that contained former three world champions. While Los Ticos reached the knockout stages in 1990, they finished second in a weaker group. Costa Rica will play the runner-up in Group C in the second round.
"We will have to keep fighting," Costa Rica coach Jorge Luis Pinto said. "Whatever happens we are willing to fight."
England lost its first two matches to Italy and Uruguay, while Costa Rica surprisingly won its first two. Uruguay also advanced from the group after beating Italy 1-0.
"It wasn't the death group after all _ at least not for us," Pinto said. He dedicated the qualification to "those who believed in us and those who didn't."
"People started believing after the game against Italy," he added.
England had already been eliminated and will go home without a win after striker Daniel Sturridge missed a number of chances throughout the match.
"We showed today what a good team we can be," England coach Roy Hodgson said. "Apart from the first 10 minutes, I thought we dominated."
One of Sturridge's best opportunities came in the 65th after a nice one-two with midfielder Jack Wilshere. But the forward's curling shot from the right just missed squeezing inside the far post.
Costa Rica had started the match brightly, passing the ball around midfield with ease and making England chase them around. Forward Joel Campbell had an early chance, but his shot from inside the area deflected off Gary Cahill and went just wide in the second minute.
Costa Rica's best chance came in the 23rd minute when Celso Borges' curling free kick was tipped onto the crossbar and out for a corner by England goalkeeper Ben Foster.
But that was about it in terms of attacking for the Costa Ricans and they were happy to absorb England pressure, especially in the second half.
Pinto defended his team defensive tactics, saying Costa Rica was also out to attack.
"Some people said we would only defend," he said. "No, that's not true. You have seen it. We have been able to attack as well. That is why we are very proud,"
With nothing to play for, Hodgson made nine changes to the England team, fielding a slew of younger talent, including Adam Lallana, Ross Barkley and Luke Shaw.
England's backup players looked disjointed in the first half, giving the ball away easily and finding it difficult to break through Costa Rica's setup.
Wilshere made a fine run down the left in the 12th, setting up Sturridge just outside