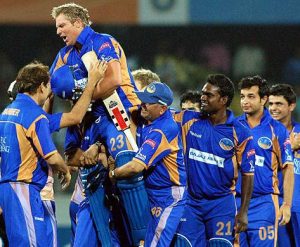 Mumbai, Jan 12 (IANS) Rajasthan Royals have signed four 'uncapped' players from the state Ranji Trophy squad — Deepak Chahar, Ashok Maneria, Aakash Chopra and Dishant Yagnik — for the fourth season of the Indian Premier League (IPL).
Royals, during the two-day auction over the weekend, also bought Rajasthan's pace spearhead Pankaj Singh, the highest wicket taker in the ongoing Ranji season.
Pace sensation Chahar, 18, took eight wickets in his first-class debut and was chief destroyer in bowling out Hyderabad to the lowest ever Ranji total of 21.
Left-arm spinner Maneria was the captain of the U-19 team which toured Australia in 2009 and for the U-19 World Cup in New Zealand.
Chopra, a former India Test opener and Delhi skipper moved to Rajasthan this season and has been instrumental in the team's superb performance that took them to the final.
Chopra has played for India but according to IPL rules if a player has not played for India in the last five years, he will come under the 'uncapped' category.
Former India player Hrishikesh Kanitkar, who is Rajasthan's captain, has been approached by the Kochi team.
'We are delighted to announce the signings of the Rajasthan players. It underlines our commitment to cricket in the state of Rajasthan and we will continue to work closely with the local Cricket Associations who have done such a fine job of developing these players,' said Sean Morris, CEO, Rajasthan Royals.
'We see huge opportunity for our local players to further improve their skills through joining the IPL team full of international stars who will add to their cricketing experience.'