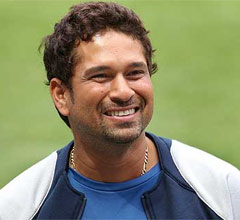 BANGALORE: Sachin Tendulkar's magnanimity is well known in cricketing cricles and the legendary cricketer again proved that he is as big-hearted a human being as he is as a cricketer when he decided to share his Man-of-the-match award with young Ambati Rayudu.
After thrashing Royal Challengers Bangalore by nine wickets, Tendulkar came to the post-match presentation ceremony along with Rayudu at the Chinnaswamy stadium here last night.
As soon as the presenter Robin Jackman announced Tendulkar's name as man-of-the-match, Tendulkar walked up with Rayudu and announced, "It will be bad if I don't share this with Rayudu." The legend then handed over the cheque of Rs 1 lakh to the youngster.
When Rayudu was asked about Sachin's gesture, the shy Hyderabadi could only mumble, "I thank him for my innings."