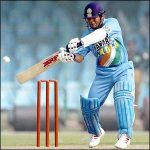 LONDON: Iconic Indian batsman Sachin Tendulkar's record-breaking ODI double century has found a place in the Time magazine's top 10 sports moments of the year.
"Certain sports milestones seem simply unreachable: In cricket, it's the one-day double-hundred: no man had ever produced 200 runs for his team during a one-day international match," 'The Time' said.
"In February, however, India's Sachin Tendulkar, the greatest run scorer of all-time, hit the magic milestone against a powerful South African squad.
"Tendulkar smacked three "sixes" – the cricket equivalent of a home run – during his epic performance, and the build up to 200 was exhilarating.
"When he reached 199, the home crowd in Gwalior waved Indian flags, and roared, knowing they were about to witness history. The diminutive Tendulkar, dubbed "The Little Master," slapped a single past the South African fielders. The world's 1.5 billion cricket fans had a moment they'd never forget," it said.