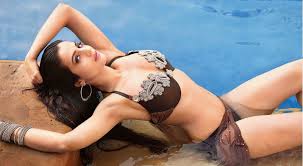 In the recent past, we saw the Internet and daily papers buzzing with images and news on Katrina Kaif spotted in a bikini in Ibiza, Spain. It took a while for this entire news to subside down. Well, now the topic is back to discussion as we have Salman Khan and Ranbir Kapoor reacting to Katrina's bikini images.
While Salman was in a jovial mood, we got him to speak on his opinion about Katrina's bikini images going viral. Salman was clearly in favour of his former girlfriend. When the media asked his reaction, he questioned back and asked, "If such a picture of your's, your mother's or sister's is out like this, how would you feel?" "Showing such private pictures to the world is wrong. It is a disgusting thing to do. Even if such a picture of your boyfriend is out , you wouldn't like it.
So I think, if you would not like it, it's the same for others too, they would not like it," he added. Ranbir Kapoor who is rumoured to be Katrina's boyfriend was spotted shirtless along with Katrina Kaif in Ibiza. During a press meet, the actor was asked about his reaction to the images that spread like wild fire. In response to this he said, "Katrina looks beautiful and Ibiza too is a beautiful place. You should go there." We see that Ranbir too is in a light mood and spoke openly about this sensitive topic. Don't miss the slide show for more interesting things said by Salman and Ranbir on the pictures.