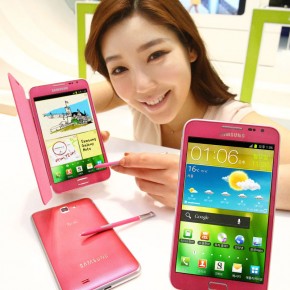 The Samsung Galaxy Note 3 will launch in black, white and pink, according to sources.
According to SamMobile, the colours will have staggered launches, with the black and white versions launching in week 36 (September 2 to September 8), and the pink version hitting shelves in week 43 (October 21 to October 27).
We assume the pink version will be reserved for the South Korean market, as the pink version of the Samsung Galaxy Note 2 was, but we'd be happy to be proven wrong of course.
The Samsung Galaxy Note 3 is due to be announced at a Samsung Unpacked event on September 4 just before IFA in Berlin, so it could be the device will be hitting the shelves in the same week.
The Samsung Galaxy Note 3 is said to feature a larger screen than the Samsung Galaxy Note 2 (rumours suggest between 5.68 and 5.99-inches), with a resolution of 1920×1080 pixels.
The processor is tipped to be either the quad-core Snapdragon 800 processor or octa-core Exynos processor depending on region, and it will include 3GB RAM, 32GB internal storage with a microSD card slot.
For multimedia, there's a 13-megapixel camera and a 3200mAh battery powers the phablet.