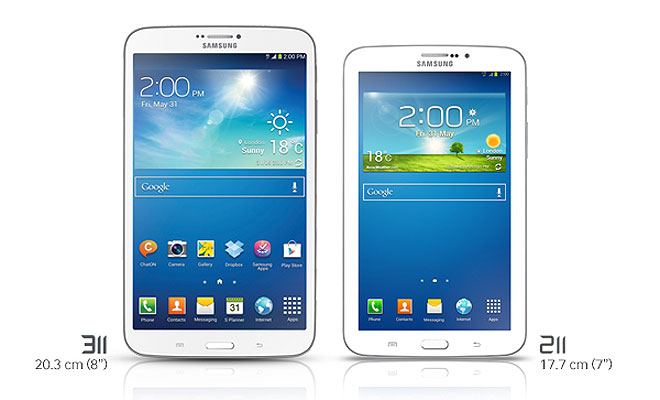 Samsung Electronics on Thursday launched a range of Galaxy Tablet 3 in India priced between Rs 17,745 to Rs 21,945.
The company introduced the Galaxy Tab 3 series in three variants in 8-inch and 7-inch screen. All devices go on sale from Sunday.
The 8-inch variant of Samsung Galaxy Tab 3 will be available in two variants — 311 with 3G (voice and data) and 310 with WiFi capability — and are equipped with an 8" WXGA display (189 ppi). Both these devices run on Android Jellybean 4.2 operating system and are packed with 1.5 GHz Dual Core processor and have 1.5 GB RAM. The 7.4 mm Galaxy Tab 311 comes with a resolution of 1280 x 800 and has a 5 MP rear camera and 1.9 MP front camera.
The 8" tablet comes with 16 GB internal memory that can be expanded up to 64 MB with microSD card. It also sports a powerful 4450 mAh battery.
'Multi Window' in the 8" tab allows the user to work on two apps simultaneously by splitting the screen into two, like watching a movie or chatting at the same time. Pop up Video allows a small video window to be played over any part of the Tab's Menu while 'Reading Mode' technology optimises the display to deliver perfect illumination and tone for comfortable paper like readability in different lighting conditions.
Samsung Galaxy Tab 3 311 is priced at Rs 25,752 and the 310 version at Rs 21,945.
The 7" Galaxy Tab 3 runs Android Jellybean 4.1 operating system and is powered by 1.2 GHz Dual Core processor and 1 GB RAM. the device sports WSVGA display (168 ppi) with 3MP rear camera and 1.3 MP front camera. The tablet, which packs a 4000 mAh battery and has 8 GB internal storage that can be expanded to 32 GB.