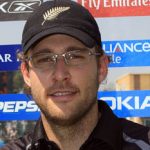 Wellington: Dejected after the embarrassing ODI series whitewash against India, New Zealand skipper Daniel Vettori on Monday said senior players, including himself, will have to take the blame for the debacle.
"It's about players standing up and performing, Vettori told 'ONE News' on the team's return to the country after a 0-5 drubbing in India.
"If we look at the reasons for the losses being because of selection or management structure we are absolving the players and myself included – so the players need to stand up," said the talismanic leg-spinner, who has been leading the side since 2007.
Set to take a break to nurse a sore back, Vettori rejected suggestions that his multiple roles of being a captain, selector and key all-rounder were affecting the team's power balance.
Vettori said his teammates are "comfortable" with his multiple roles but conceded that the fans might be running out of patience considering that his side has now lost 11 one-day international matches on the trot.
"Yeah, of course I don't blame them. This team is hurting itself. It's a miserable time for New Zealand cricket," Vettori said.
"We did so well in the first couple of Test matches and then to let it all slip in the last Test and the one-day series, it hurts. And the only reason you play the game is to win and the only reason a lot of New Zealanders watch us play is to see us win.
"So we have to give that to them as soon as possible or otherwise it's going to be really upsetting to a lot of people," he added.
Kiwi coach Mark Greatbatch echoed Vettori's views and said the team is "exceptionally disappointed and embarrassed."