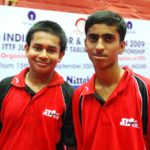 New Delhi: Promising paddler Soumyajit Ghosh became the first Indian to clinch a medal in the World Junior Table Tennis Championships after he teamed up with NG wing Nam of Hong Kong to win the mixed doubles bronze at the event in Bratislava, Slovak Republic.
In the first round, Ghosh and Nam beat Lee Seung Hyeok and Yoo Eun Chong of Korea 9-11 11-7 11-7 and 11-9.
In the second round they rallied to get the better of Florianand Wagner and Anna Krieghoff of Germany 3-11 11-7 11-8 and 11-7.
Ghosh and Nam then defeated Song Hongyuan and Zhao Yan of China 11-9 3-11 11-9 11-7 11-8 in the quarterfinals.
Their fine run ended in the semifinals when they lost to Lin Gaoyuan and Zhu Yuling of China 6-11 11-6 6-11 7-11 11-8 and 6-11.
The Indian boys finished 10th in the team Championships of the event.