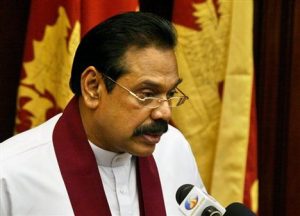 COLOMBO: Sri Lankan President Mahinda Rajapaksa will fly to Mumbai to watch his country's match against India in the cricket World Cup final on April 2.
"The President wants us (Sri Lanka) to win the World Cup as a tribute to Muttiah Muralitharan who retires from international cricket after this World Cup," Rajapaksa's spokesman Bandula Jayasekera told reporters.
Jayasekera said President will go to Mumbai to watch the final match.
The Sri Lankan President and his three sons were keen spectators on Tuesday night when Sri Lanka beat New Zealand to reach the final to meet India.
The President had congratulated the home side after they beat New Zealand and encouraged them to bring back the world title they had won in 1996.
Rajapaksa visited the Caribbean when Sri Lanka reached the final of the 2007 world cup with Australia.