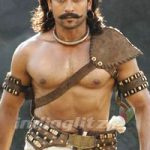 "While I understand that fans are very very important to the growth of any actor, I don't see any need to increase the number of fan clubs by introducing a separate flag or doing other things. I want to do different things in films alone," said Suriya.
The actor was speaking to journalists in Chennai on Monday afternoon, regarding his recent release '7aum Arivu'. "There are mixed reviews for the film. But still it is huge success," he said, adding: "I take positive and negative feedback with the same spirit."
"Many ask whether Bodhidharman is really a Tamilian. Intense research was done by director AR Murugadoss before we commenced shooting for 7aum Arivu. So I don't want to go further into that topic," said the actor, who had played a Buddhist monk and a circus artiste in the movie.
On his forthcoming film 'Maatraan', directed by KV Anand, he said, "I feel gifted to bag such a role. It is no easy thing for any actor to do such a character. And I am happy to work with Anand after the super hit Ayan. Maatraan will be a complete commercial treat."