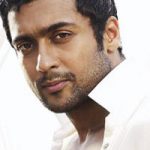 When Suriya decides to speak to bizhat.com, you know it's going to be something out of the ordinary. The last time he spoke and interacted with online fans was after the release of his mega blockbuster Ayan. And now after another superhit Singam and a new addition to his family, Tamil cinema's superstar has a different story to tell.
The actor breaks the news that he has signed up to be the brand ambassador of Saravana Stores the biggest textile retail outlet in Tamil Nadu. Suriya says that he wants to add something unique to everything he does, and hence this decision. Excerpts of an exclusive interview
You have signed up as the brand ambassador of Saravana Stotes in Chennai?
Yes. And I am so excited about it.
After endorsing for major National brands, why did you decide to go for Saravana Stores?
Saravana Stores has always been a mystery to me. I take the road in front of Saravana stores every morning and evening to the studios in Kodambakkam and never have been a day when I don't see hundreds of people inside and outside the shop, and on roads and bus stands waiting with the huge shopping bags with logo of the shop. I don't think that they can be so successful and satisfy so many people, compromising on quality. There is something about that shop which has the common man hooked.
So you did you do a research on them?
Of course , I did. I heard that big multi-nationals from Mumbai and huge retail outlets like Big Bazaar had come down to study about Saravana Stores and their success formula and to follow it there. Isn't that something to be admired? As the people behind this success are simple, unassuming business people from a small town near Thuttukudi who made it big through sheer hard work and acumen.
How did you relate to their brand?
I think, just like me, they came from no-where and made it big and I wanted to be a part of their success. So I am endorsing for the new huge branch at Purusawalkam which is really massive with electronic car park and other state-of-the-art amenities.
Is it a smart strategy of your's to reach out to the masses and middle class?
(Smiles) It can be the other way around too, that the store wants to capture the attention of the elite and the high income group.
The buzz is that you are being paid a bomb for being the brand ambassador. Please comment?
Nothing like that. They paid me my market rate and we both want to make the association beneficial.
Who is shooting the ad?
Sundar has done the photoshoot. R Ratnavelu and Babu Shankar have done the advertisement.
So you are a happy man after the success of Singam?
I am very happy and all the credit for Singam success has to go to Hari sir who was always convinced about the script and its success. Rakthacharitra is nearing completion and I am starting work on Murugadoss film next week.
How is your little son?
He is very cute and we haven't named him yet. He is a bundle of joy and he is keeping my family on their toes.