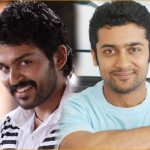 Actor Surya is known for choosing the best scripts in all his films, sparring few in the row. But no one knew that he has such a wonderful crew around to listen to the scripts. As a sweet elder brother, Surya makes sure that he is a part of discussion on hearing the scripts meant for his brother. Seemingly, he has been an avid criticizer of his brother's performances and Jyothika has been instructing him.
Both his next films 'Naan Mahaan Alla' and remake of Telugu movie 'Vikramakudu' were also confirmed with his guidance. Not to miss his father Siva Kumar, producer K.E. Gnyanavel Rajan and their sons as they keep filtering the scripts much before it reaches Surya and Karthi.
Responsibilities of a good brother and Surya has been a genuine bro.