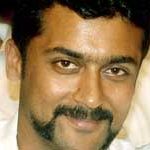 South Indian superstar Surya, who is footing his first step in Bollywood through Ram Gopal Varma's Rakta Charitra, has said that he is getting better in Hindi language and now, he is able to read and write in Hindi. The actor is also playing a lead role in Puri Jagannath's The Businessman, which is also said to be a multi-lingual film.
Earlier, in an interview Surya has confessed that his daughter Diya knows Hindi better than him. But now having an tutor has helped him to learn the language. The actor says that his only intention is to reach out to pan-Indian audience and he likes to face the new challenges. He even assures that he won't leave Tamil for the sake of Hindi.
Well, the actor is not sure about dubbing his own voice for the film and he says that it all depends on Ram Gopal Varma. Recently, actor Vikram dubbed his voice in Hindi for Raavan.
Now, we have to wait and see whether the Surya will take up this challenge.