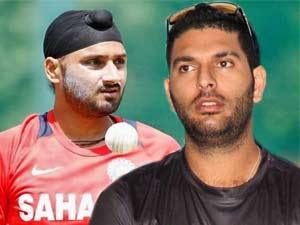 Dashing Indian middle order batsman Yuvraj Singh has been included in the 15-member squad for T20 World Cup by the national cricket selectors in Mumbai on Friday.
Yuvraj along with Harbhajan returns to the Indian side for the World T20 to be held in Sri Lanka in September.
Yuvraj makes a comeback to the Indian team after a gap of 10 months.
Yuvraj, the man of the tournament in the 2011 World Cup, had last played for India in November 2011 before being diagnosed with a rare germ cell cancer.
After his treatment, Yuvraj has been working out at the National Cricket Academy in Bangalore and has also played a few practice matches recently. NCA sources said he has done enough to dispel any doubts about whether he has adequate stamina.
The World Twenty20 Championship event will be played in Sri Lanka from September 18 to October 7.
VVS Laxman, Pujara and Rahane were selected as a part of 15-member squad for New Zealand Tests.
Master blaster, Sachin Tendulkar was also named in the team for Tests against the visiting Kiwis.
Squads:
Team for Test series against New Zealand
MS Dhoni (captain), Virender Sehwag, Gautan Gambhir, Sachin Tendulkar, VVS Laxman, Chateshwar Pujara, Virat Kohli, R Ashwin, Zaheer Khan, Pragyan Ojha, Umesh yadav, Ajinkiya Rahane, Piyush Chawla, Ishant Sharma and Suresh Raina.
Team for T20Is against New Zealand and ICC World T20 in Sri Lanka
MS Dhoni (captain), Virender Sehwag, Gautan Gambhir, Virat Kohli, Yuvraj Singh, Irfan Pathan, R Ashwin, Zaheer Khan, L Balaji, Ashok Dhinda, Piyush Chawla, Harbhajan Singh and Manoj Tiwary.