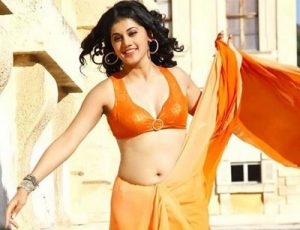 Heroine Tapsee believes that a journey meant for success will always have hurdles. Hailing from New Delhi, she captured the heart of movie-lovers with her debut film in Telugu, Jhummandi Nadam.
Tapsee said that hereafter she would be concentrating entirely on the South. "For the last one and half years, my lifestyle has completely changed, so has my food habits. My day begins with idli-sambhar, pesarattu or upma, much different from my Punjabi menu," she said.
She hoped that her forthcoming film Vasthadu Naa Raju with Vishnu would also be liked by the Telugu audiences. Currently, she is doing two films in Telugu and one in Malayalam. She has already made a mark in Tamil with the success of Aadukalam.
"My urge to be an actor has definitely taken me away from my family. But, If I could make them happy as a good artiste, I will be successful," Tapsee maintained.