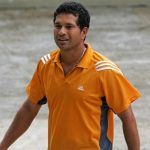 New Delhi: Sachin Tendulkar's career longevity and his remarkable achievements make him a class apart, according to the legendary Sir Vivian Richards who reckons that the Indian maestro has set benchmarks that no other contemporary cricketer can come anywhere close to.
Richards said Tendulkar has survived for so long in international cricket because of his "amazing dedication" and it was only a matter of time when he scripts history by becoming the first cricketer to score 50 Test centuries.
"He can certainly achieve that (scoring 50 Test centuries). I think the way the games are going at present, it would be very difficult for anyone to break that record. He is way ahead of others," Richards told PTI in an interview here on Saturday.
Richards, one of the most destructive batsman of his era, said only Australian captain Ricky Ponting had a slim chance of coming anywhere near Tendulkar's records among contemporary cricketers.
"I can't see any individual, the closest guy who would come to that may be Ricky (Ponting). But the way things are going on in Australia, they are calling for his head, so I don't know really know how long he will be around. He is the only individual I think who could be close to Sachin's record. But I think it would be hard to surpass," he said.
The West Indian batting great attributed Tendulkar's longevity to the way he has conducted himself right through his career and his discipline among other things.
"Tendulkar is 37, still going great. It's all about how you have conducted yourself. I guess there were times when it looked pretty doubtful with injuries, starting with the back, would have most certainly affected his career but it's due to persistence, dedication, discipline and confidence that you survive for so long," he explained.
Richards spoke on a variety of subjects ranging from India's prospects in the upcoming ICC Cricket World Cup, best captains in the modern era and the reasons for the sharp decline of West Indies cricket during the interview.
The former captain had rated Virender Sehwag as the most destructive batsman in modern era but did he see any similarity in the Indian swashbuckler and his own batting?
"I think he has his own way of playing. Any comparison that could be is that he has no fear. I had no fear about fast bowlers. He trusts his instincts and I admire him 100 per cent for that attitude. He is a stylish player and has got the trust in himself which is very much required," he said.
Richards attributed the retirement of several key players in the Australian team in a short span as the reason for the decline of the team and said this happens to every side which has been at the top for long.
"It is because of retirement of some of the key players. (Shane) Warne was one of the world beaters. (Glenn) McGrath was a world beater. People like (Adam) Gilchrist. You are bound to miss these individuals. You need good reserves to come through that phase," he pointed out.
"When you hear that people want Warne to come back, it's an indication that they have declined to a certain degree and it happens.
"If you look down at the age of Australian cricket. Katich is 35, Ricky Ponting is in his 30s, Hussey is in his 30s all of these individuals are going to create that vacuum for better teams to have a go at them. What's happening now happens with every team which has been at the top for a very long time," Richards explained.
On the controversial Umpire Decision Review System, Richards said it should be applied only when there is a foolproof mechanism and all the teams have faith in it.
"Umpires could be there but if you look for assistance, then why not. Why not have the referral system? I am also hearing that some sides want to use it for some matches. But you don't have the resources to benefit all the matches.
"There may be a case that a team may be affected which can stop them from progressing. There needs to be an all-round system where everyone benefits from it. It should be applied when foolproof mechanism is there and all the teams have faith in it.