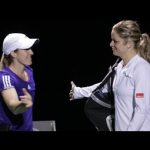 Belgium: Three-times grand slam winner Kim Clijsters will mark the end of her glittering career by teaming up with arch-rival Justine Henin for Belgium at the 2012 London Olympics.
Former world number one Henin and current world number three Clijsters, who have 10 grand slam titles between them, have only teamed up once before in the Fed Cup.
They have not always got on but before a friendly exhibition match on Thursday the pair spoke about the possible match-up.
"It would be nice of course to do it for the Olympic Games, because I tell myself that that year might be my last full season. So it would be nice to end that season in style," said Clijsters, who has won the U.S Open two years running since returning from a two-year break from the game to start a family.
"But again, as Justine mentioned already, we have to get together to discuss this, see what the possibilities are and assess how far we want to go in this," added the 27-year-old.
Henin, a seven-times grand slam champion who made a spectacular return to the tour in January by reaching the Australian Open final after an 18-month break, was ruling nothing out.
"There is a real willingness to be there," the 28-year-old said.
Clijsters ran out a 6-1 3-6 10-5 winner in the friendly between the compatriots, but Henin said she has put her injury woes of this year out of her head having not played since hurting her right elbow at Wimbledon in June.
"I have stopped telling myself the last weeks that I am getting old, I prefer to think that I am getting more mature," she said.
"I think that if on the health level everything goes as planned, there is still a lot of potential for me. I have regained some freshness in the last two weeks," Henin added.